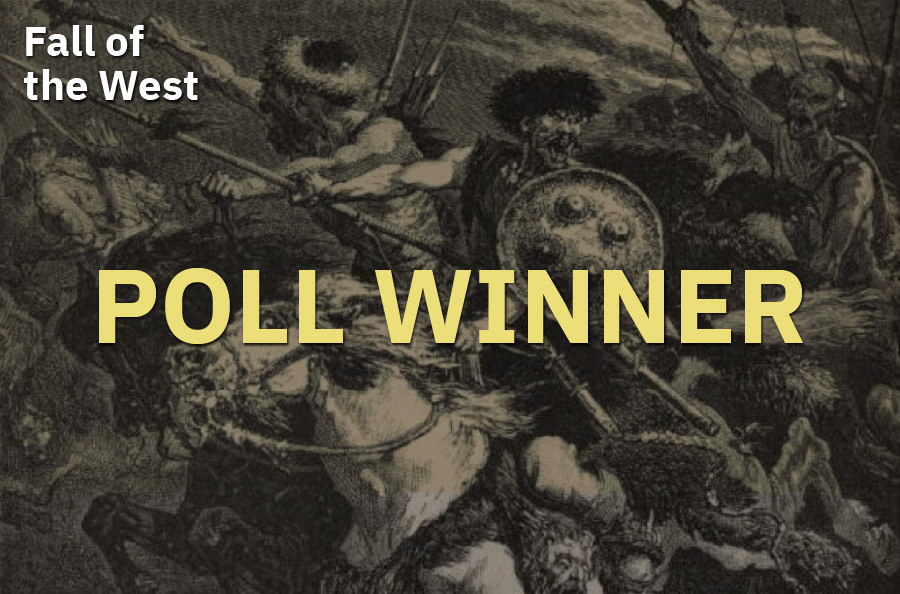 Fall of the West has won Omniatlas' March poll on Patreon!
Voting is now closed. Thank you everybody for voting!
I'll continue releasing maps of Europe in the late Roman Empire as before. According to the schedule, maps of the years 410 to 476 will reach Iron Tier members on 21 April 2023. The maps will start reaching the public on 19 May 2023.
Vote now on Patreon in the March 2023 Omniatlas poll! (closed)
Hi everybody—welcome to the March 2023 Omniatlas poll!
Omniatlas holds semi-regular polls on Patreon to determine which maps to do next.
Anybody who is a Patron of Omniatlas can vote in these polls.
Fall of the West, Third Triumvirate, Qin Shi Huangdi, Toltecs to Aztecs
The votes in this poll will choose which map series follows the current run of Roman Empire maps (released every Friday). The options are:
Europe: First Triumvirate to Augustus (60 BC–6 AD)
Europe: Barbarian invasions to Fall of the West (410–476)
East Asia: Qin Shi Huang to Gaozu (247–195 BC)
North America: Toltecs to Aztecs (1000–1400)
Choose to have the maps continue on with the Roman Empire as it faces civil war and invasion, culminating in the fall of the Western Empire! Or what about going back to an earlier time, to follow the collapse of the Roman Republic during the Third Triumvirate to the founding of the Roman Empire under Augustus, or traveling east to watch the creation of the first Chinese Empire under Qin Shi Huang? Or perhaps cross the Atlantic to view the struggle for dominance in Postclassic Mesoamerica?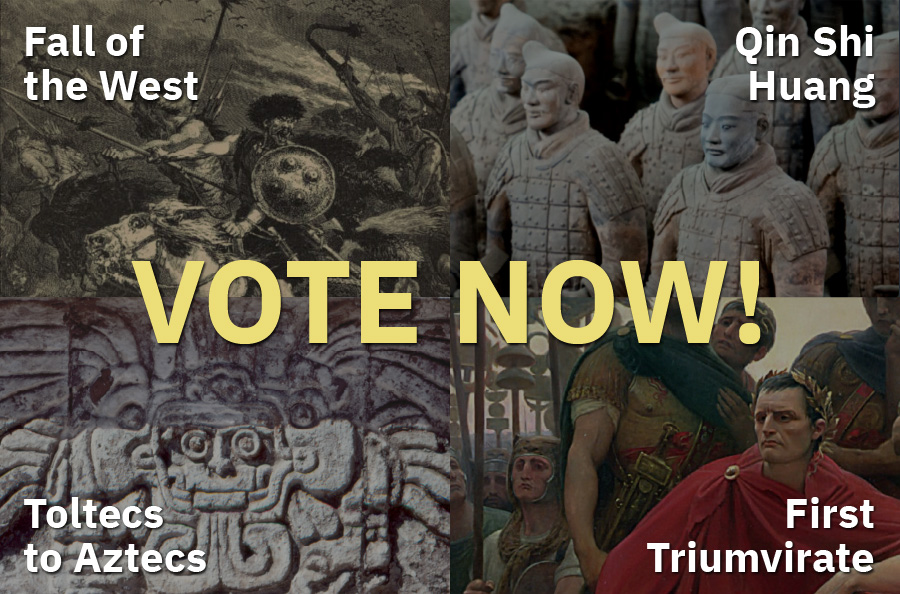 Vote Now! (closed)
You can vote for one or more of these options on Patreon by pressing the button below
or going to https://www.patreon.com/posts/79927681.
Polling will be open for one week, closing at 9 a.m. on 20 March 2023 (GMT).
Voting is now closed. Fall of the West has won!